THE PONYTAIL
ONE LENGTH: 16"
COLORS: 23 ORIGINAL
The Ponytail is a unique Extension designed to create the long, voluminous up-styles you've always wanted! Made with 100% Remy Human Hair, it looks and feels just like your own hair. It easily attaches with a small built-in comb and a section of hair wraps around to seamlessly conceal your hair tie.
This Extension is available in 23 Original Colors and instantly enhances your simple ponytail into a sophisticated style. The Ponytail is lightweight and versatile, allowing you to create any look you desire!
Attach in 3 easy steps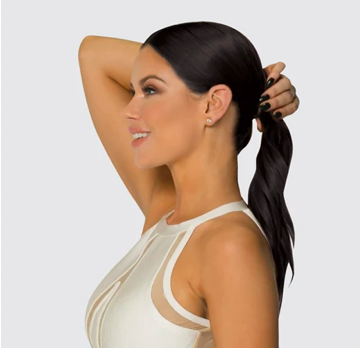 STEP 1
Make sure hair is dry and tangle free.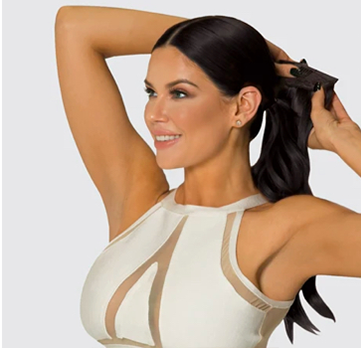 STEP 2
Place the Miracle Wire 1-3 inches behind your hairline. Holding your index fingers on either side of the weft, use your thumbs to slide the back of the weft down to the occipital bone. The HALO® should feel snug.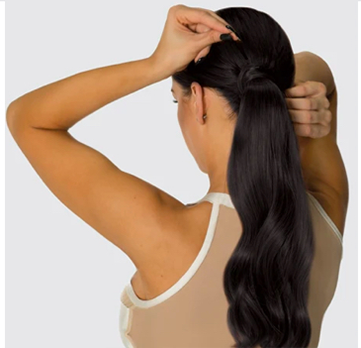 STEP 3
Working your way around the head, pull all natural hair sitting above the weft out and over with the tail end of your comb.
FAQ
How do I secure the HALO® Ponytail?
Please refer to our Instructional Video: "Ponytail". Your HALO® ponytail is attached to your natural ponytail, making sure it is tight. Use the comb attached to the inside of the HALO® ponytail and slide it into the top of your ponytail in between the hair tie and the scalp. Using the long section of hair attached to velcro (separate to the main 16" ponytail) Start to wrap it around the base of your style and secure it with a bobby pin. It's that easy!
Can I use any bobby pin for my HALO® Ponytail?
Yes, you can definitely use any bobby pin. There are also two bobby pins in the original box your HALO® ponytail came in.
What products can I use on my HALO®?
Our HALOCOUTURE® Extension Care is the only product line we recommend to safely care for your HALO® Extensions. Each product was designed to refresh, restore, and protect the keratin seal on the 100% Remy Human Hair. It's specifically formulated to extend the life of your HALOCOUTURE® Extensions!
Paired with our HALOCOUTURE® Silk Spritz and Hairspray you have the perfect combination of products for your HALOCOUTURE® Extensions.
How long will my HALOCOUTURE® last?
Depending on how often the piece is being worn as well as the care given to the HALOCOUTURE® Extensions. Being that this is a Human Hair product there is not a guaranteed time frame that the HALO® Extension will last. This is an estimate based on the best quality care being given to the HALO® Extension.
Can I style & blend my extensions?
Yes, because HALOCOUTURE® Extensions are 100% Remy human hair, you or your stylist may style as you would your own hair.
Can I sleep in my Extensions?
Because your HALO® ponytail is so simple to remove and put back on, we recommend that you remove your HALO® ponytail and hang it up prior to going to sleep to best preserve its custom style. Then you can quickly and easily wear your HALO® ponytail again upon waking.